3 Ways to Win New Prospects
|
Winning a new prospect to your side is, for a lot of people, almost as tough as wooing a girl. They have their own ideas and opinion of the industry and may or may not know what to expect in a good service provider, setting you on a journey to make them see why you're their best choice.
In my experience with gaining new clients, a lot of things can determine whether or not you're going to close that deal. As little as insignificant a matter can shatter what you've built up for several days, weeks or even months – which is why you have to avoid making any mistake.My blog post will be sharing with you some tips on how to win new prospects.
Impress With an Outstanding Service
The most important thing to your prospect is the quality of service he or she is going to get from you. After this every other thing can follow. Most people usually make the mistake of believing that lowering the price will actually win a doubting client over, but that hardly does it. While it's important that you keep the price of your services at a reasonable rate, you should know that the client you're going to work for is more concerned about the quality you're going to deliver to them and most people don't care if they pay twice the standard rate to get the best.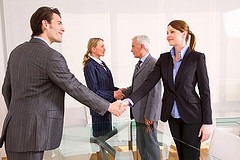 What is the story the clients you've worked with in the past are going to tell? How you work for the clients you have today might determine which clients you get tomorrow.
Share Success Stories
Sharing success stories is a very powerful way to convince your prospects to close a deal with you. People easily reckon with stories of success and can determine their decisions based on stories they heard, irrespective of who's sharing it.
How then do you get these success stories?
You can ask your current clients to share a short story of how your service has helped improved their business and you can use that as testimonials on your blog or your CV. Getting as much as you can will add to the effect, and this also means you have to impress your clients because a displeased client won't share good stories, actually!
Reduce Services Costs
In my first point you'll notice that I stressed the importance of the quality of your service above the price – and while this is definitely true I'm not trying to go back on my word in this point. While a great service will surely be richly compensated, not everyone can afford to pay the high cost of high end services.
Before you start naming your price, you should consider the fact that there are a lot of individuals and companies competing to get the same offer that's brought to you. Make sure the price you're setting for them won't be the thing that will destroy the hard-work you've gone through so far. Set a reasonable, but not too cheap price and your prospects will be happy clients.