4 Outdoor Tech Dates for your Geeky Girlfriend
|
Here are three words you don't usually see together in one sentence: techie, romance and outdoors. However, despite great personal peril, we shall endeavour—successfully I might add—to elucidate no fewer than four ways you and your techie girlfriend can enjoy a romantic date in the great outdoors.
It wasn't that long ago when nerdy guys and gullible gals were regularly being lured out into the woods at night in pursuit of the elusive snipe. Snipe hunts enjoy a rich tradition in American culture and occasionally these forays resulted in a little romance.
However, we aren't here to lead you astray, these dates will draw you and your techie lady friend closer together, give you plenty of opportunities to deepen your romantic involvement and be darn fun at the same time.
1. It's Showtime.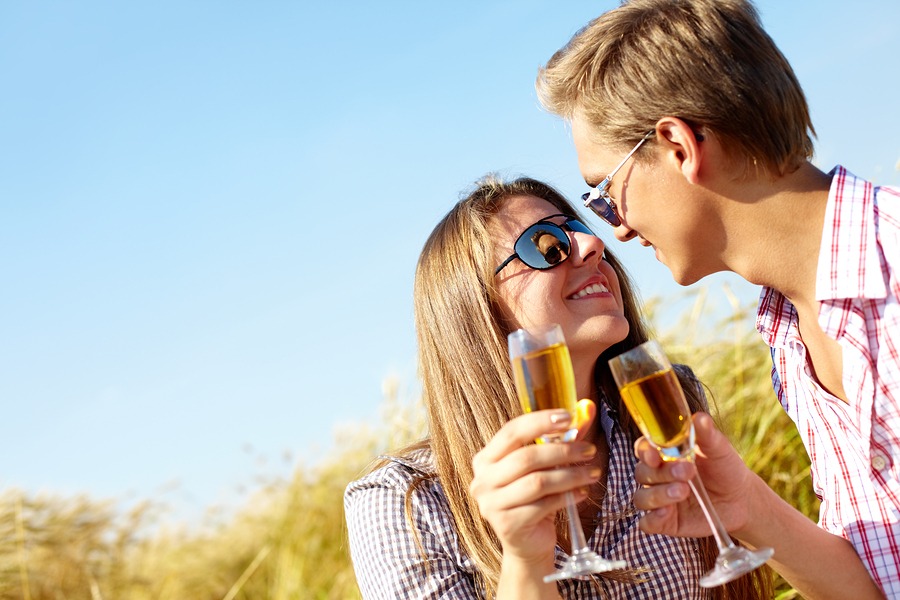 Do you have a little trouble keeping up with your geeky girlfriend when it comes to handling the equipment properly? An excellent way to demonstrate your prowess is to set up an outdoor movie. If you can pull this one off, you'll prove yourself worthy as a fully qualified AV geek. No longer will you project the image of a technophobe.
You'll have to score a good video projector. If you don't have one, you certainly know someone who does. Please don't ask to borrow your girlfriend's projector, it would blow the surprise and if you accidentally broke her bulb you'd never hear the last of it.
If you want to inject this date idea with a dose of mega-steroids, combine it with a weekend cabin rental. Have your projector hidden in the car and get the whole thing set up outside when she's not looking. S'mores and a good white zinfandel complete the picture.
2. Geocaching.
Any geeky girlfriend will know her way around a GPS unit, whether it's a stand alone device or a smartphone app, so that makes a geocaching outing a natural activity to build a date around.
The key here, especially when you're new to the activity, is to pick a geocache that won't have you panting like a pair of greyhounds after a race; at least not during this part of your adventure. You may want to cheat a little and do the hike yourself before hand. However, don't tell her that. Some advance knowledge might allow you to feign a little more competence than you really possess.
Bring along a blanket to sit on so you can relax when you reach your destination, along a few of her favorite snacks. Who knows, maybe in addition to the geocache, you'll find a little romance.
3. Wish upon a star.
If you want to enjoy some guaranteed time relaxing under the night sky with your girlfriend, nothing works better than photographing the stars, and specifically making some time lapse photographs of the night sky. You've probably seen the pictures of the night sky with the stars drawing graceful arcs. You'll find some examples and a few tips at Exposureguide.com.
You'll need a good digital camera, probably an SLR, that has a manual exposure mode. A remote control or shutter release cable is also a good idea. If you try to press the button with your finger, you'll cause the camera to shake. Finally, a sturdy tripod is absolutely essential.
Another great thing with this one: The darker the better!
4. Do you hear that?
Back in the day we used to convince our dates to drive up to lonely high spots overlooking the city using the excuse that the view was fantastic. I suppose that still works today, but here's an idea that will probably work better with your geeky girlfriend.
Get a short wave radio and then head out to the hills at night and start searching for shortwave stations from around the world. C. Crane has a wide range of short wave radios. You can get a good one for around $50. Once the sun goes down at night, signals from around the world start bouncing off the ionosphere, enabling you to pick up radio stations from almost anywhere.
Bring along a picnic basket, a couple of lawn chairs, pull the cork on a bottle of wine and take a trip around the world via the magic of short wave radio.
Suggested conversation starter while roaming the shortwave dial: Wouldn't it be great to visit these places in person together some day?