5 Ways to Get More Twitter Followers
|
Twitter's usefulness can no longer be contested. Businesses are using it for several purposes while individuals are using it both socially and to keep up with news. Facebook and Google may be locked in a battle for social network supremacy, but Twitter's role in social media cannot be underestimated. Whether you are using Twitter for more specific purposes such as reaching out to new customers or for personal reasons such as keeping with up the latest football news, you will no doubt want to increase your followers.
Increasing your number of followers on Twitter is not as straightforward as many users may first think. There is of course the old strategy of "Follow me and I will follow you back", but the latter is about as rewarding as banging your head into a nice concrete wall. There is also the case of your Twitter feed being so cluttered with pointless and often spammy updates you often stop even using it after some time. There are however some easy things you can start doing right now to increase your Twitter followers.
Fully customize your profile
You want to stand out from the other users, and a Twitter profile devoid of your picture and still using one of the default backgrounds is not going to be of much help. You should thus take the time to create a great personalized profile complete with your relevant information in the About box. Make the most of what Twitter is offering you as people do pay attention to them.
Be original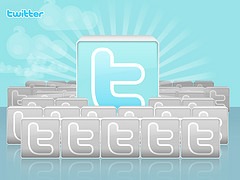 This one can come across as fairly obvious, but it is amazing how so many people are still misusing Twitter in this respect. There are scores of users who are simply retweeting other people's content and yet expect to get more followers. However, this does not work as it is all too easy for these followers to find the original account and follow that one instead. Focus on producing your own unique Tweets and people will be more inclined to follow you permanently. Focus on instead copying other people's Tweets and nobody will bother to follow you.
Be regular
Using Twitter regularly is another good way of getting more followers. However, using the social network regularly implies actually posting things and not just checking out those you are following. Using Twitter on a daily basis greatly increases your number of Tweets as long you are still posting interesting things and increases your freshness of your profile. It moreover allows more people to find you either through search or other aggregating applications.
Don't be rude to other users
As annoyed as you may be with another user Twitter or simply in general, it is always a very bad idea to be publicly rude and to rant about it on Twitter. Not only will you lose your existing followers but new followers will always check out your profile before finally deciding to follow you. If you are consistently rude, you will not keep your followers and this will directly impact your chances of getting new ones.
Start trending
Trending is one of the most overlooked ways of getting new Twitter followers. Users are always checking out what's trending on Twitter either through the sidebar links on the social network itself or through over tools. Start trending and your insightful and witty post about the latest big thing on Twitter may get more and more users to check out your profile.