Best Responsive Joomla Themes
|
We find "n" numbers of Joomla templates online. Why go for Joomla? Because It's an  open source CMS platform. It is a 'free' open source framework and content publishing system designed for quickly creating highly interactive multi-language websites, online communities, media portals, blogs and eCommerce applications.   A Responsive Joomla templates uses css media queries to scale dynamically  to fit the width of the browser that the user is viewing your site with.
It is the most effective and  smart way to approach targeting platforms such as iphone and ipad for your Joomla website. Most of the Joomla clubs releases a new Template, every month. To make your web page render more efficiency  develop the idea on how to use Joomla templates. By templates the members can focus on your products, services and they will come to know what you are. Why go for Joomla Templates?  Here is the answer! Joomla Templates provide a clean and professional look. Joomla template provides the fastest generation of themes, data transfer, and high-quality outlook, etc.Give your site a new lease of life by choosing the best Joomla Template. Here is an option to set your business apart from the crowd.
Here I provide you an insight at the Responsive Joomla Templates released currently.
Video Stylo:
Video Stylo is a template used for building online video sharing websites. The slide shows present on the banner of the template makes a stunning look on the eyes of viewers.
Here you can add/share your favorite videos to the online video site. It has an option to upload your videos in article section or in the categories where you would like to share. For online video playing, it requires an Joomla HD Video Sharing.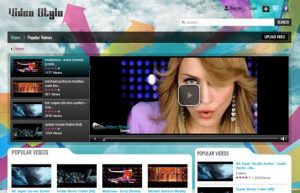 Elastica:
Do you want your site to serve all in every aspect? Then Responsive Joomla Elastica is the answer to such an ideal question. It has an feature that the web has spread to all devices including iphones, netbooks, tablets and other handheld devices. It adapts and transforms to fit the screen area of all sized devices. 
Cameleon:
Think wise to out stand your business by using Camelon.Are you getting bored of providing a single template to all users? Use Camelon to come out of it. This theme provides  an option for changing your templates efficiently. Stand ahead from your competitors by providing different themes in different browsers like (IE, Firefox…) and provide a different theme for selected users.  Do not want to be stuck with one template per menu item? Cameleon gives controls to switch templates for every menu items.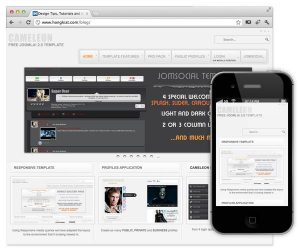 Vertex:
To customize the look of the theme with your own custom highlight colors and font and  to make your theme look unique, use the Vertex which has the options of choosing your own layout.Vertex is not only packed with lots of options but also it looks great.
Leo Restro:
As the name implies, it is based on Leo frame work.It provides you ultimate flexibility and speed. It is an Responsive Template for Joomla, which has an option called  adapting to the Resolution size of smartphones. For example Iphone, Android, etc. As I stated earlier, it is flexible, where we can customize the background, text-color, font size, etc.
 [ Demo | Download ]
Joomla Dagen:
Joomla Dagen is a responsive template for Joomla 1.7. The template is also using Twitter Bootstrap, Skeleton and Google Fonts.
Green Machine:
Would be great for a "go green" environmentalist site. If green is your favorite color thenGreen Machine is for you! It's a responsive Joomla 2.5 template that's green, green, and more green! The some of the features fo green machine are Mobile compatibility, It is use to use and customize and It is light weighted and works more fast.
[ Demo | Download ]
PureSite: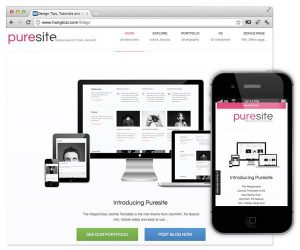 It looks great by it's minimalistic design. PureSite is simple and clean. This is one of the templates which fits any screen sizes.
Happy to share some interesting information's about Joomla templates with you. Hope you enjoyed  reading this article. Have a Great time!!