Elevate Your Social Media Notoriety via Emails
This is twenty first century where a child may not know much of the vocabulary but they surely know how to access a social networking site. Social networking started off as socializing spot but gradually as its use among various societies became common its uses increased. By using it means the abilities of a networking site. When the popularity of the social sites reached a certain extent they utilized it as a marketing spot. This marketing idea paid off to the companies with uplift to their market. Emails are one source of increasing following and taking the popularity rate at another level. Many users of such site got acquainted with various companies. But it is enough? Would emails actually increase the popularity? What steps to undertake to achieve insane following?
Following pointers will help you elevate your social media following via emails:
Buttons:
The two types of buttons that should be present in the marketing emails are the 'Follow-us buttons' and the 'Share buttons'. Two different buttons with two clearly different purposes, they are very essential and many people ignore this simple act that leads email readers to the social sites. The 'Follow-us buttons' are important, if the email reader liked what you're offering they will follow you, to make it easier for them just place a button in your email. The easy accessibility makes it more attractive. Some companies even offer gifts and incentives for following them on social networks.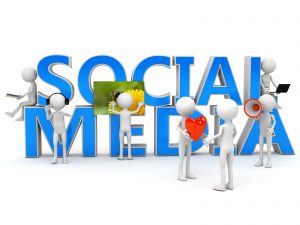 The 'Share buttons' has a different task to undertake, however it is equally vital as the 'Follow-us buttons'. By adding this simple button it does excessively easy for the user to share what he/she likes with his social network. This will immensely help in growing your following. The four essential buttons that should be present In your marketing email are Twitter's 'Tweet' button, Google+ '+1', Facebook's 'Like' and 'Share' button and LinkedIn 'Share' button.
You Might Also Like: How To Promote Your Business On Facebook
Entice Followers And Make it Mobile Friendly:
You should add things in your email blasts, marketing emails and newsletters to all your followers to be part of your social network. For instance, Facebook gives away insane prizes quarterly to their followers and so in your email blasts you can add a picture of the Facebook quarterly iPhone winner. This will excite and entice the user to join your social network, making them know that he might also have a chance to win an insane give away. For someone who is going out-o-the-way to join your network and like you, you really have to make their effort worth it.
This is the new generation and statistics show that 40% of people nowadays use mobiles to check their email, thus make sure you make connection via mobile easy. Reduce the content; optimize your content for mobile so that it is easy to access from a mobile device. Technology has taken its toll on people today so you really have to make an effort to make it mobile friendly in order to attract major followers.
You Might Also Like: Understanding of Social Media And Its Characteristics
Sign-up page:
You can let your followers or email reader know about your company/ business via sign-up pages. Place the links on your email subscription page which will make it extremely easy for the followers or email reader to detect and click.
Related