Hot $50 Paypal Cash And 5 Blog Engage Standard Accounts Giveaway
|
Hi Guys! I would like to convey my thanks for being my regular reader.First time favouritehobbies engaged with my friend Bashir from ajnabii.com and sponsoring a hot cash giveaway and 5 blog engage standard account.
Giveaway Prizes:
1st place: $50 USD PayPal Cash
2nd to 6th place : 1 Blog Engage (Standard Account)
How To Participate?
Complete the steps available in the punchtab widget and share this giveaway with your friends and readers with your referral punchtab link. More points you earn chance you could be the winners.
Giveaway Rules: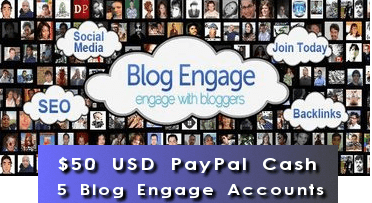 The Giveaway starts on May 02, 2013 and ends on May 31, 2013.Winners will be selected randomly and has 48 hours to claim the prize else new winner will be chosen so don't miss the chance to grab this opportunity be active.
This giveaway is Sponsored By: Favourite hobbies
Best Of  Luck To You All..!!