InsTube Review – The Free Video & Music Downloader
|
A number of people around the globe find it difficult to download their favorite videos or songs from YouTube, Facebook, and many such websites. It is very disappointing to leave the website without downloading your favorite media. But with the advent of technology, everything has become possible now. A number of software tools have emerged to make media download possible on user device. One such tool is InsTube. Let us learn more about this tool and explore its powerful features.
InsTube – A Brief Introduction
InsTube is a superb free video and music downloader available for Android devices. It allows you to download your favorite music and videos from sites like Facebook, SoundCloud, YouTube, Instagram, and 25 others. You don't have to register anywhere to use this app. Download and install it on your Android device and start using it.
Its video locker lets you create the private storage on your phone and you can secure your entire phone at this location. It even supports video formats including M4A, 3GP, and MP3. This tool also lets you to convert the YouTube videos into MP3 and the videos can also be locked with password. You may not find this app on Google PlayStore as Google prohibits the YouTube downloader apps.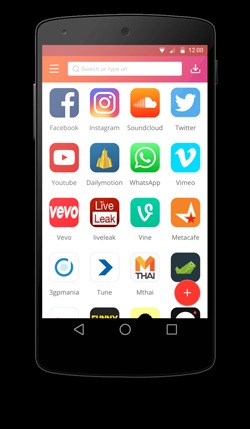 Ultimate Features of InsTube
InsTube is one of the finest video and music downloader that is packed with an exclusive range of features. Some of them are as follows:
It is Available for Free
This tool is available for free to download. You can visit its official website to download the apk file and install it on your Android phone. Once you have installed the file, you can start downloading your favorite videos and music on your device.
Support for 25 Video and Music Websites
You can download videos and music from websites like Facebook, YouTube, SoundCloud, AOL, MrPopat, and over 25 such websites. So, you need not worry, the videos and music can be easily downloaded from some of the most popular websites at ease.
Security & Privacy
InsTube is highly secure tool that adds and extra level of security to all your videos and music. It creates a private location on your Android phone where you can store your personal/important videos or music. Everything is preserved well.
Fast Video Download
A user can easily download the videos and music on their device at really fast speed. All thanks to the optimized download speed offered by InsTube.
Support for Different Video Formats
InsTube supports different video formats including MP3, MP4, M4A, and 3GP. The highest video resolution supported is up to 1280 pixels.
The Bottom Line
InsTube is one of the best music and video downloader software tools that allows you to download your favorite songs and videos for free from 25 websites. It comes with a video locker that helps you to secure your personal videos/music files in a secret location on your phone. The videos can be protected with passwords. It is the best software to download music and videos for free from your favorite websites.