Nokia and Samsung – who is the leader in Smart phone Industry
|
Nokia and Samsung are the two undisputed leaders in mobile manufacturing industry and they are giving a tough fight to each other. Though LG, RIM or HTC are not lagging far behind but RIM and HTC are only concentrating on the Smart phone market. Samsung's latest Galaxy range has got overwhelming response from the traders as well as from buyers as they are selling huge numbers of units every day.
Samsung Galaxy Y S5360, contains  lots of features and running on Android OS which makes it a smart choice for the buyers. As for the features, it comes with 3.5-inch Touch screen and 5 MP Primary Camera with stunning picture quality. Galaxy range comes with bundles of Smartapps which run smoothly and provide an ease of use to the user. This Wi-Fi enabled smart phone will make your life smooth and give you an amazing experience of calling and texting.
Like Samsung, Nokia is also concentrating on introducing latest range of smart phones. Nokia Asha 305, Nokia Lumia 610, Nokia Lumia 701 or Lumia 800 are recent collections of smartphone series, which mainly concentrate on the concept of multitasking and manage your social world very effectively. Live widgets, and new pull down taskbar will enhance your overall experience of multitasking.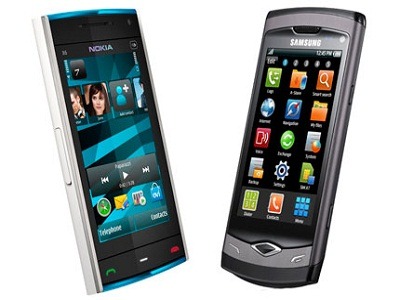 Currently Nokia is concentrating on Integrating Smart games apart from boring sending or receiving mails or rather brooding over the internet. But if you go for a close individual review, Nokia is still lagging behind mainly in the Smartphone Industry and it is simply because Samsung is offering numerous life changing apps, jelly beans and lots more at a very competitive price rate. But with Asha or Lumia ranges, Nokia is intending to give a tough find to all its competitors and at the same time they are thinking of investing more in their R&D segment.
Now most of the manufacturers are focusing on making Smart phones and less on the entry level devices. It is the RIM of HTC who have written and crafted the definition of Smart phone but it is Samsung, it is taking this concept to the zenith. Now google, Microsoft, and Apple have entered in this war zone, where they are trying to attract with their innovative apps or attractive Operating systems. But ultimately, it is the users who are getting benefited by this war in Smartphone industry.