SEO Apps for Webmasters for iPhone And iPad
|
iPhone and iPad are all we know one of the top Smartphone of the world by Apple, It is also called as a multi purpose device. Well this guest post is specially for webmaster they want's to update them self any where any time.
So here are some useful applications for the iPhone and iPad for webmaster/blogger, Well these application not very effective for pure SEO for a webmaster but it is useful and full the requirement and basic need for the bloggers.
Google Analytics:
Google Analytics one of the best analytics tool for websites and webmaster, well now a number of iPhone application developers created the application of Google Analytics for iPhone and iPad. Find out a list of applications from official Page.
SEO Search Ranking:
SEO Search Ranking is a great app for checking SEO ranking on your Smartphone. There are a number of advantages of this app, you can easily check a number of Unlimited Keywords for unlimited website but this application is not free of cost, a little bit price tag of $3.99. Get from here
Website SEO Audit:
This is the greatest application for full audit of your website, it will provide you complete details of your website meta tag, loading time, site backlinks, PR and almost every basic necessary need for your website. This application is free of cost download from here.
SEO Automatic:
Awesome application for on page optimization, it will suggest what is the basic need for the on page optimization. You can easily download this SEO automatic app from the app store. Once again this app is also not free of cost but one time $9. Get from iPhone official App Store
URL Site Submitter Pro:
URL submitter pro nice application for automated URL submission to all search engines/web directories. This is very cheap with the price tag of 0.99$. Download this application from here.
SEO Pro Lite: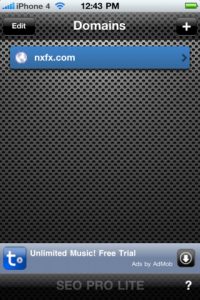 The SEO pro great tool which analyzes the SEO value of your website, This will check for you all basic terms of Google PR, Alexa Ranking, Yahoo Links, Complete Ranks, Page Meta and some more interesting features. This is a free tool so quite easy to use and analyze your work. Download free from here
Site Speed:
Nice tool for optimized your website speed, it quickly gathered information from all major search engine speed tool and make things very simple. It will select and make HTML, CSS and JavaScript into separate file. It helps you to optimize your website speed and tell you the major hints for site downloading performance. Download from here
I use this application for checking my website traffic and other basic needs of SEO, off course these above applications are not enough much advance for major SEO. Unfortunately some of the applications are paid but you can say one time investment.
You use these applications for your Smartphone? Or any other also application you have pleased mention in below comment.