Wish You Could Travel Forever? 4 Ways to Earn Online While Traveling
|
The unrealistic rise in traveling expenses has made it next to impossible to travel on a budget.And if you are an avid traveler and have been roaming a lot, you know what I mean! So, unless you have a handsome amount of money spared for the traveling purposes, sooner than later you'll run out of budget which means an end to the exciting journey. But is there a way with which you can earn while traveling?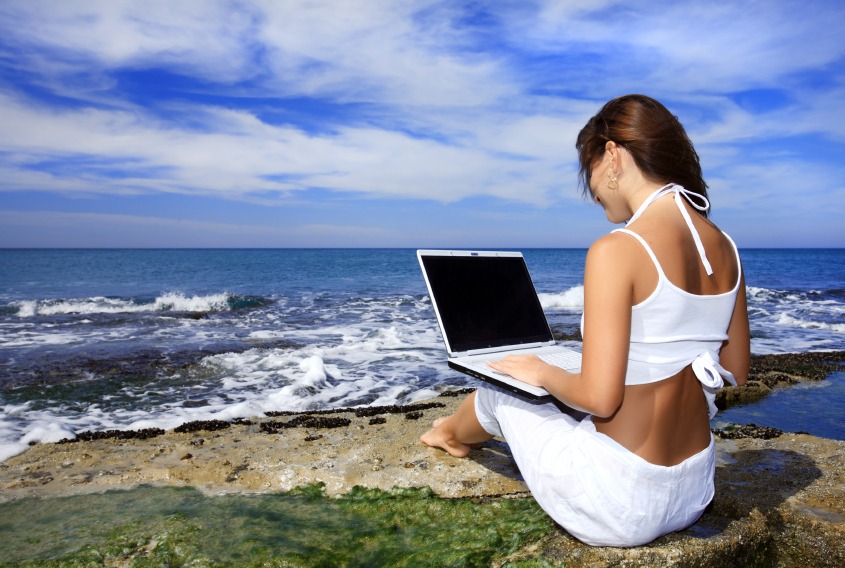 Apparently, there is! If you have the required skill set, patience and dedication, you can earn online while traveling. Earlier when such promising online options were not available, travelers used to work in restaurants, enrolled in volunteering services or taught English in schools which though assured reliable flow of money, ended up consuming most of their traveling time. But now, you just need to have a reliable internet connection which gives you an assured connection with the rest of the world and you are good to go.
The time requirement of these online jobs is flexible, which gives you an ample amount of space to twist and mold your schedule accordingly. Don't believe me? Read ahead:
# Freelance writer:
Online marketing is one of the most regarded and adopted strategies by companies to accelerate their sales and thus, they are always on a lookout for good writers. Freelance writers bid for the projects online and complete the task in the discussed timeline. Thus, if have the required writing skills, then this job is perfect for you. In addition, you are not even bound by time and can accept only as many projects which you can handle successfully while traveling.
# Travel Blogs:
Here is a chance for you to become an online entrepreneur. People love to read about firsthand experiences of the travelers and therefore, such blogs are more often than not successful.These blogs act like your personal diary. You travel to a new, wonderful place and share our experience with people.
This task requires some amount of passion, patience and dedication but if established successfully, it can earn you a substantial amount of money along with being a wonderful record of the places you visited and people you met. Travel blogging has emerged as a new career
option for the writers.
# Review writer:
This option might seem tricky, but it is one of the easiest ways to earn money online. As while traveling you need to stay in a hotel, hire luxury furnished apartments, couch surf, rent a hostel room etc, there are many websites which pay you to give a fair review and rating to these places which can be consulted by other fellow backpackers. Few of such websites are tripadviser.com, ReviewStream.com etc. These website offer $1.50 per review which is quite substantial for few words.
# Destinations for travel guide:
Many publishing firms require thorough amount of research before publishing a travel guide to tourist destinations. Thus, you can provide such firms with the substantial amount of information on best commutation services, best restaurants, Dos and don'ts etc and earn substantial amount of money. Though it requires a lot of research work but sometimes entire traveling expenses are also covered which is quite advantageous.